Case Studies
State-of-the-Art Feeders Boost Productivity Even in Small Numbers
Industry:
Performance resin manufacture
Department:
Production engineering

Summary of the solution
The Kubota NX can handle a wide variety of materials and allows screws to be swapped as necessary.

This enables the use of a single feeder type, reducing the numbers of feeders required.

Feeders can be relocated easily, making it easy to modify production lines.

Kubota offers a comprehensive engineering service that includes the provision of proposals and advice regarding production line architecture.
Solution
Several Machines in One: State-of-the-Art Feeders Deliver Dramatic Efficiencies
When the head of the product engineering team asked the consultant again about solutions, the consultant suggested she had Kubota design the production lines because Kubota offered a wide range of feeders. Straightaway, the employee made inquiries with Kubota.
"The Kubota NX feeder can be used with a wide range of materials simply by swapping optional parts. Because the NX allows you to switch materials as necessary, it is possible to consolidate multiple lines handling different compounds into a single line, thereby making production volumes more consistent. This also enables a reduction in the number of optional parts required. Most of all, because the feeder's simple construction can handle even tricky materials, it confers major benefits in terms of reduced maintenance time and maintenance costs," she explains.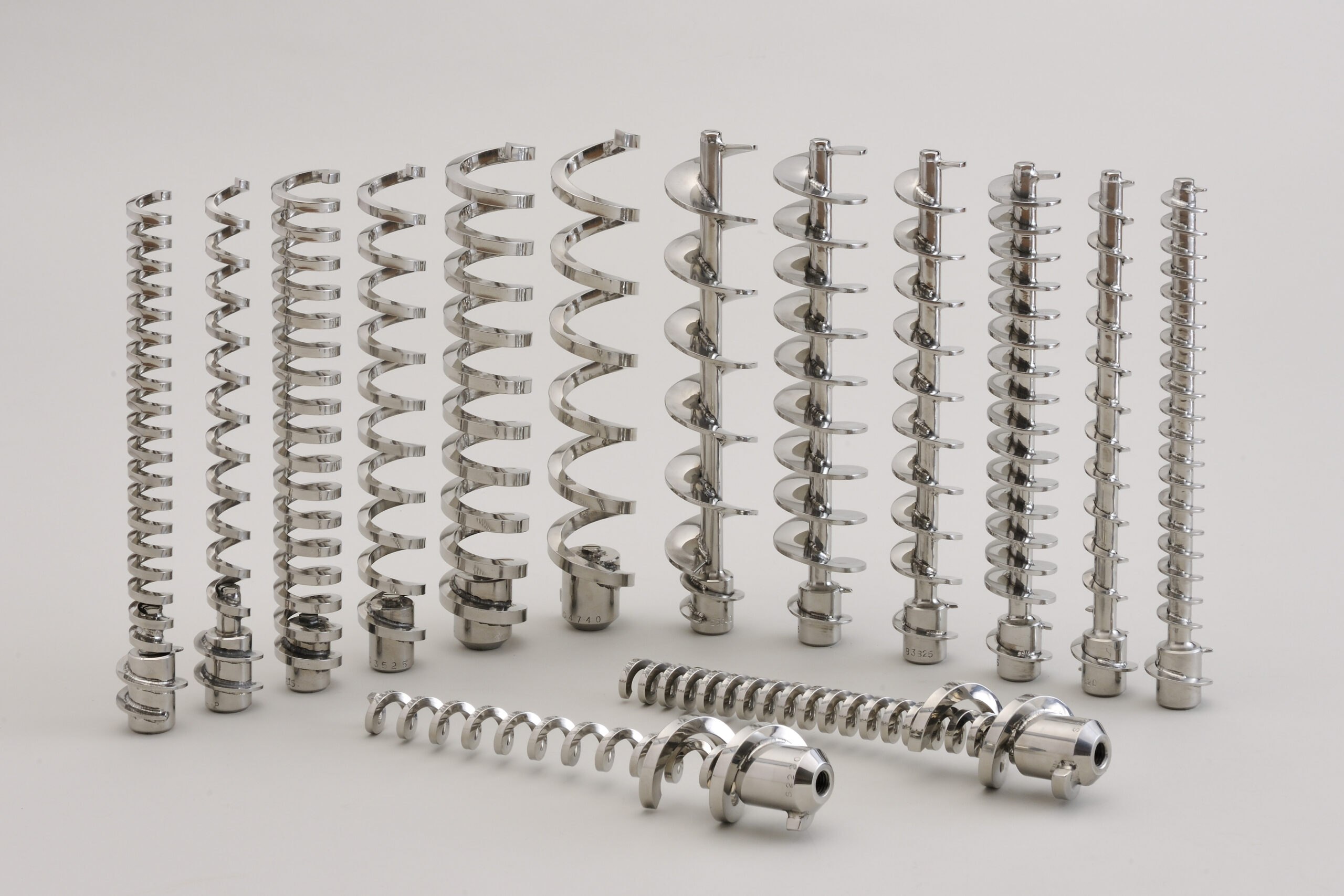 Example of screw line-up
She also liked the fact that the Kubota NX is easily relocatable thanks to its integrated control circuitry. In order to move a conventional freestanding feeder to a different production line, you need to add the corresponding control hardware to the control box for that production line. However, if the feeder has an attached control box, these circuits are located immediately behind the feeder unit, so you can easily move the feeder to a different line by simply moving it along with its control box.

Feeder mounted panel system
Appreciating the possibilities offered by the NX feeder, the divisional head asked Kubota to help design the new production lines. And thus, the design for the production lines in the new factory was completed, with advice from the consultant.
"The use of a production line design that leverages the features of this feeder enabled us to reduce the number of feeders on each line from six to four. This gave us more freedom over production line layout, enabling a simpler product flow. There is no need to install new hardware when switching materials. Kubota's comprehensive on-site engineering service also appealed to management," says the divisional head.
The new production line design was approved by management in no time, whereupon commenced on the new factory. Thanks to the fact that the feeders were delivered quickly, the new factory was able to open promptly.
"If the NX feeders work as hoped in the new factory, we are planning to replace the feeders in our existing factory too," smiles the divisional head.