Case Studies
Gravimetric feeder expanded chemical materials range & sales
Industry:
Plastics contract manufacturing
Department:
Production control

Summary of the solution
Switching to gravimetric feeders enabled even difficult materials to be discharged consistently and accurately.

With the need to perform sampling now eliminated, downtime was greatly reduced.
Solution
Gravimetric feeders consistently discharged wide range of materials
Hoping to obtain some information on the issue, an employee from the manufacturer's production control team visited a trade fair, where he happened to see Kubota's NX gravimetric feeder. When the Kubota representative showed him a demonstration model, the employee was immediately convinced that the Kubota NX would be the perfect solution to his employer's issues.
Kubota's NX series of feeders features weight sensors (digital load cells) that constantly monitor discharged volumes and feedback weight information, thereby controlling screw rotations in accordance with variations in mass for consistent feeding. Thanks to the NX's negative wall angle hopper design, in which the bottom of the hopper is flared, materials flow more smoothly. The NX is therefore extremely resistant to bridging, enabling it to discharge difficult materials precisely, without the need to install vertical agitators or add other options.
No longer needed time-consuming sampling process
Being gravimetric, the NX does not require the time-consuming sampling process that had been the most time-consuming part of switching materials either. The NX greatly boosts productivity by reducing downtime when switching materials.
After the trade fair, the manufacturer took a sample of its material to Kubota's testing center. "We were amazed by the results. We compared the performance of Kubota's NX feeder with our existing feeders with titanium dioxide, which is one of the materials we have difficulty handling, and the NX had a margin of error of ±10g per 10 kg discharged, compared to ±600g with our existing feeders.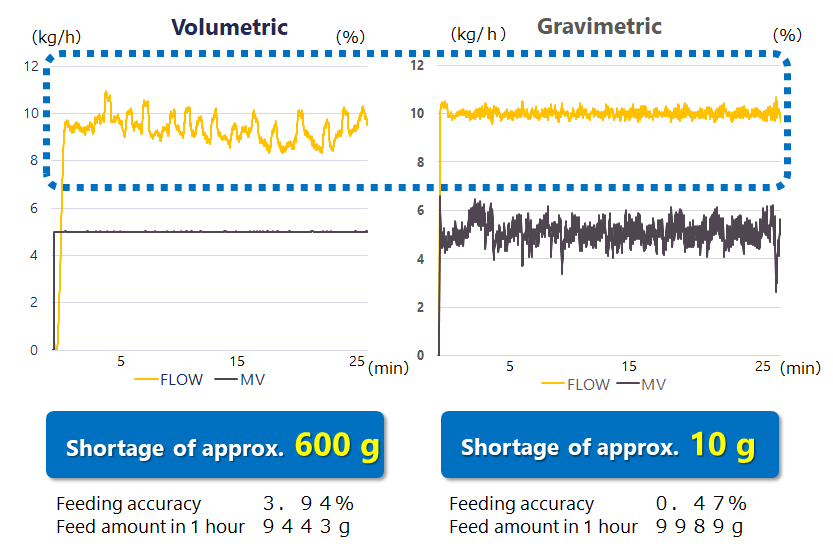 Upon seeing these results, the manufacturing control team unanimously agreed to install the Kubota feeders. The process of obtaining approval was hassle-free as well, thanks to support and performance data provided by Kubota." –says a production control team member
Kubota feeders allowed the manufacturer to handle once difficult materials with ease. Now able to support a greater range of materials, the manufacturer is letting out cries of joy at its healthy stream of orders from new and existing clients.