Case Studies
Micro gravimetric feeder eliminated premixing bottlenecks
Industry:
Plastic manufacturer
Department:
Production control

Background
Due to the growth of the automotive industry, the manufacturer that is the subject of this case study was facing a steady stream of orders for high-performance plastic compounds for automotive applications. However, behind the scenes, increased production volumes and the need to support a greater number of materials was putting pressure on the manufacturer's production line. To solve this issue, the manufacturing team decided to take action aimed at making real improvements to productivity.
Problem
Premix were required for high-performance plastics
The staff member, who is responsible for the manufacturing team set about arranging interviews with production line operators straight away. The meetings established that the premix process that was required when using the currently-installed feeders presented a major hurdle to improving productivity. Specifically, micro feeding additives needed to be weighed and mixed in advance.
"Many trace additives are used in the manufacture of high-performance plastics at concentrations between 0.1 percent and a few percent. These additives, which include antioxidants and wax, tend to be tricky to handle as they are prone to clogging and bridging, and for this reason we would have been unable to guarantee accurate dosing with the feeders we were using. We therefore needed to add a time-consuming procedure that involved workers weighing and mixing additives by hand before feeding the mixture into the feeder," says an employee on the production line.
Premix process caused reject losses and redone of production
Naturally, production line staff had other duties to attend to as well, and were forced to perform premixing concurrently with a range of other tasks. The manufacturer found that this approach had resulted in a series of weighing and mixing errors, which in some cases even lead to reject losses and instances where the entire process had to be virtually redone. The manufacturing team decided to reconsider the premix process itself to see whether it could be improved.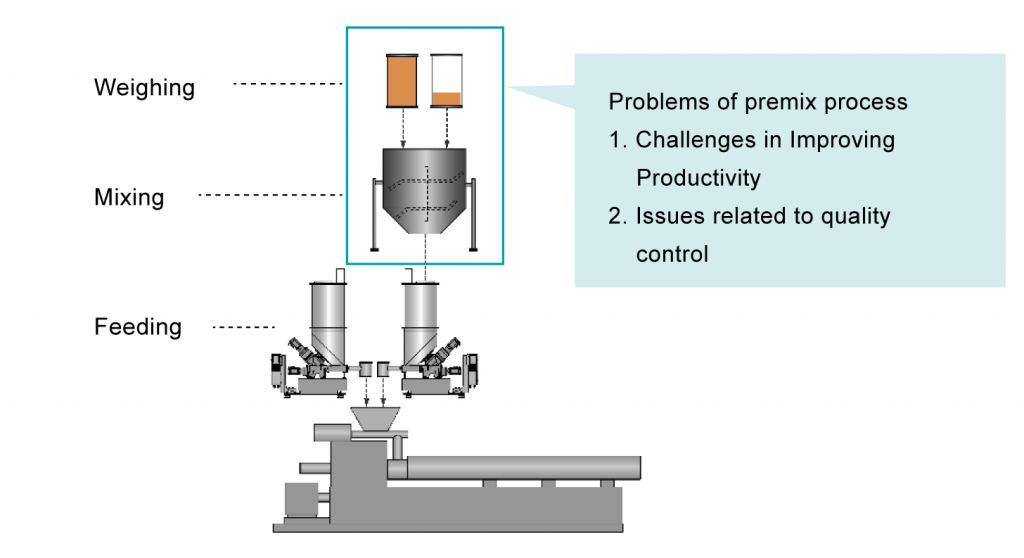 Summary of the problem
Premix process was creating two issues:
Impaired productivity: workers were forced to mix additives by hand.

Reject losses: hand-mix additives resulted a series of weighing and mixing errors.