Case Studies
Chemical Company earned $1.44M/year while high-mix low-volume production
Industry:
Resin processing manufacturer
Department:
Production Engineering Department

Background
Company A mainly processes plastic compounds for automotive parts on contract. The company responds flexibly to requests for the small lot production of many products, so orders kept increasing. The company therefore decided to build a new plant, when its Production Engineering Department pointed out a problem with feeders.
Problem
Productivity declined due to high-mix law-volume production
The problem was the poor usability of feeders that Company A was using in its production lines. It was found that two of its four feeders, which are used mainly for feeding powder, were particularly problematic.
A member of the team recalls the experience:
"To respond to requests for the small lot production of many products, we needed to use different feeder options for different materials. Naturally, we have to stop the production line to replace the option. The frequency of stopping the line kept increasing, which apparently caused the decline in productivity."
In addition to the frequency of feeder option replacement, there was a structural problem. Feeders used by Company A were multi-purpose, loss-in-weight units with a hopper structure, which were tapering downward. They were therefore prone to material bridging in the hopper, frequently causing feeding abnormality and production line stoppages.
Vertical agitators were the bottleneck
The company addressed this bridging problem by mounting optional vertical agitators. However, these agitators had disadvantages — high cost and extremely poor maintainability.
"A vertical agitator weighs tens of kilograms, so two workers were always needed to remove it. The removal of material from the agitator also required a lot of work. It took more than twice as long as a case where an option was not used." says the employee. The mounting and removal of this option imposes a heavy workload on workers. There was also a risk that one wrong move would lead to a work injury.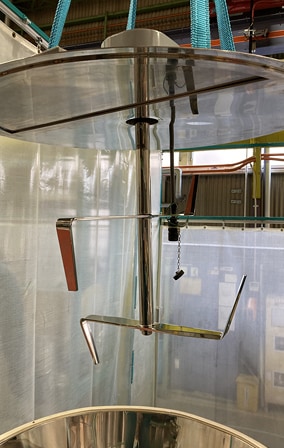 The Production Engineering Department had long desired to solve this feeder problem in some way or other when building a new plant next time. This is why members of the department decided to point out the feeder problem and hasten to collect information to resolve it.
Summary of the problem
They needed to replace the feeder option on a material-by-material basis.

Hopper structure caused a feeding abnormality and production line stoppages.

Current feeders were poor maintainability and high risk of work injury.