Case Studies
Chemical Company earned $1.44M/year while high-mix low-volume production
Industry:
Resin processing manufacturer
Department:
Production Engineering Department

Summary of the solution
NX Feeder ensures a high bridging prevention performance without a vertical agitator.

Introduction of NX Feeder is less costly than mounting a vertical agitator.

They earned 1.44M USD per year by reduction of time-consuming maintenance.
Solution
NX feeder performs accurate dosing without vertical agitator
A member of team was collecting information about feeders. An extruder manufacturer, which has a deal with Company A, introduced to him an example of a chemical manufacturer. He was told that the manufacturer, which was enjoying rapid growth recently, solved the same problem as Company A by introducing a feeder from Kubota.
He wasted no time in contacting Kubota and decided to consult the company about the problem they were facing. In a meeting about the technical specifications, a Kubota representative suggested using the NX Feeder.
The NX Feeder features a unique design, which makes it possible to solve the problem with the same level of bridging prevention performance as in the case of mounting a vertical agitator. He found that unlike feeders that had been used by Company A, the NX Feeder has a negative-wall-angle structure, in which the hopper section expands downward. This ensures a smooth flow of the material, with high feeding accuracy and bridging prevention performance as well as stable fulfilment of the material into the screw. He was also told that the feeder can be used for various materials, simply by replacing the screw and discharging cylinder.
Reduced 1.44M USD lost sales opportunities per year
"I also found that the NX Feeder would allow us to reduce initial costs more than 10% if the cost of mounting vertical agitators on feeders from a major manufacturer, which were being used at our plant, is included. I felt that the NX Feeder offered us a great benefit in terms of cost as well." says the employee.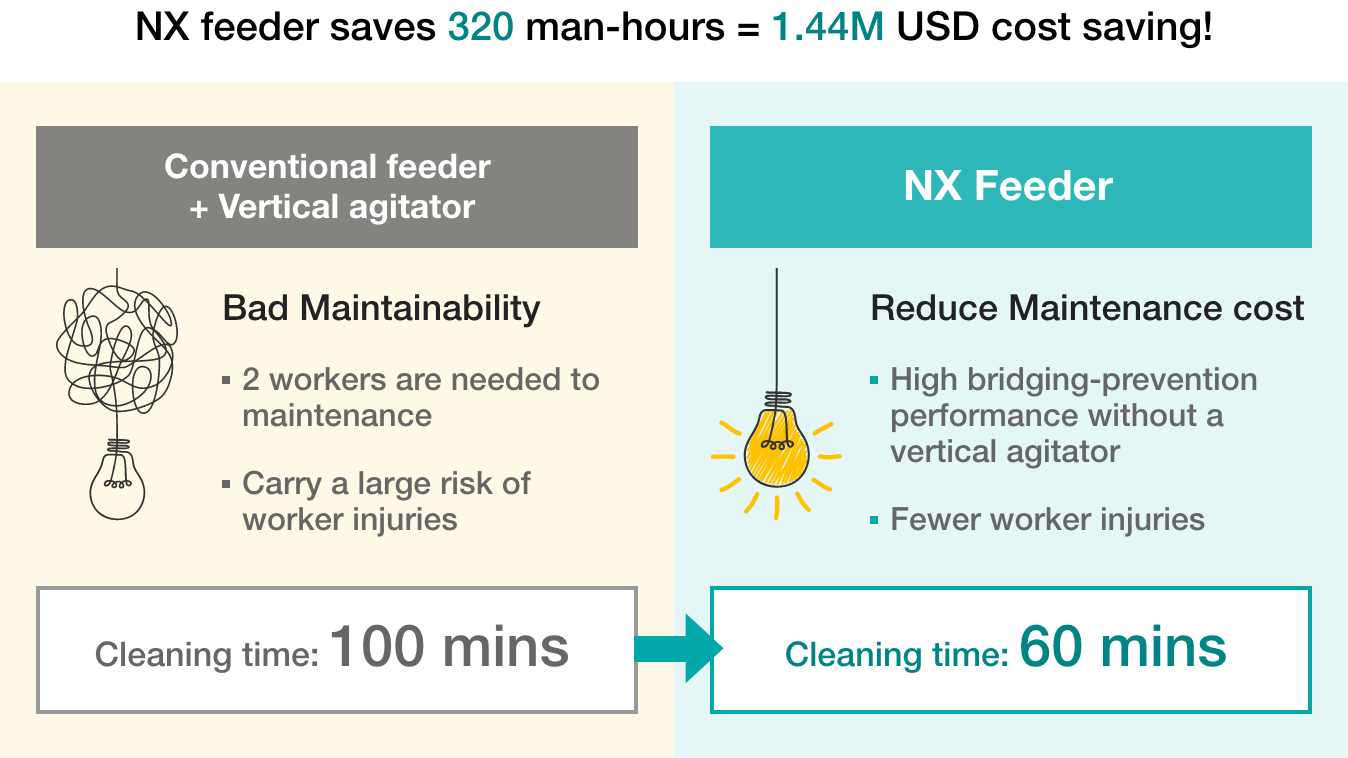 Further, the Production Engineering Department tested the NX Feeder by bringing materials into Kubota's test center. As a result, it was revealed that feeding accuracy was higher with the NX Feeder than with the former feeder. Time consumed for cleaning was also reduced by half from the previous level, without increasing staff. As a result of an estimation and comparison of the non-productive time spent on cleaning, it was found that use of the NX Feeder reduces lost sales opportunities worth as much as 1.44 million USD per year.
"I requested a managerial decision based on the report on the test at Kubota. I was able to obtain approval from the management without any apparent difficulty thanks to the solid, empirically supported numerical data. It was a great help." says the employee. The Production Engineering Department will introduce the NX Feeder at the new plant. It also plans to replace feeders of the existing plant with the NX Feeder if no major problem occurs at the new plant.