Food Industry Application
Food is products taken into human body directly, so normally process equipment used their requests higher technical standard on "Safety and Reassurance" than other industry. We explain the characteristics of Kubota Gravimetric Feeders based on the technology required for food manufacturing process, such as nutrition, snacks, chocolates, cereals and flavors.
(1) Sanitary Measures
In case of material change, usually it is regular work to disassemble and cleanup of the feeder. Thus, it is a key to increase productivity how to shorten the changeover time. Kubota Feeder, CE-W series is adopting clamp band and bolt, nut. So they have realized easy disassembling ability that "Within 1(one) minute to disassemble feeder", "Disassembling without tool". Furthermore, it is designed for easy handling by the reduction of weight of each parts.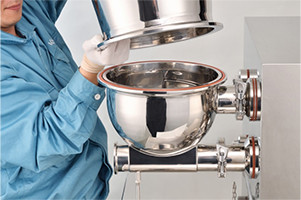 In addition, it is important the material residue is as little as possible. The material residue means that the amount of material left inside the hopper after feeding all material. The less material residue is much related to easier cleanup of the feeder. CE-W series secure substantial volume to stock the material by using half ball design, and it also helps to reduce the amount of material residue.
(2) Covering Food Sanitary Regulation
The material of axis seal to separate screw and agitator part from driving part is fulfilling to Japanese food sanitary regulation.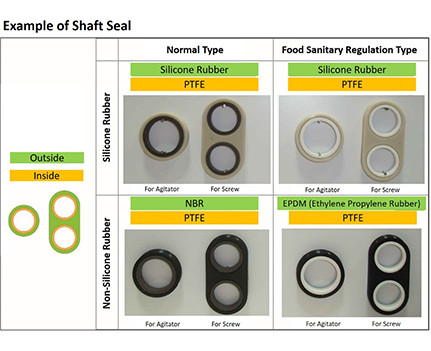 (3) Protection for Contamination
Inside the hopper where the material directly being contacted with can be finished by seamless stainless buff coating upon request. And the parts like bolt and nuts are placed outside the hopper. Such design exclude the possible occurrence of contaminants like rust and/or abrasion of paints. And not to cause contaminants into food material just in case those parts dropped.
(4) Covering Wide Range Flow Rate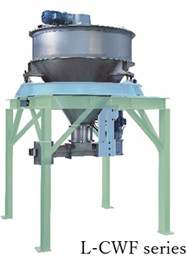 It is the characteristics of Kubota Gravimetric Feeder that can cover wide range of flow rate by one unit of feeder. For example, model CE-W-0 can cover the flow rate from 0.05L/h to 50L/h and CE-W-2 can cover the flow rate from 1L/h to 300L/h. Also, we have product lineup of L-CWF series which can cover the large flow rate from 100L/h to 10,000L/h. Kubota can suggest suitable combination of type of feeders among the wide variety of product lineup in the food process that the proportion of feeding rate of each material like main material, sub material and additives might vary largely based on recipe of individual product.
SUMMARY
Kubota have abundant know how of bulk material handling as we are one of the leading manufacture of Gravimetric Feeder. In our past experience, we have handled many types of food related material as well. We can do actual feeding test using customer's material at our Feeder Technical Center to see how it works. Please feel free to contact our Rep for further detail for food process application of feeders in details.